What do you do when you can't find a rice noodle in your house to save your life?
Answer…let another Asian cook.
Randy and I were craving some Viet yumminess!!! Randy is my very white friend who wants to go to Vietnam, speaks Japanese and I swear was an Asian in another life. LOL.
We decided to head over to a Vietnamese Restaurant in Silverlake, CA. called Gingergrass. The aesthetics are modern and there is a modest size patio in front. I love having the option to eat outdoors. Breathing in the fresh air, listening to the surrounding sounds of nature,  feeling the wind blow through my hair…okay now I'm rambling!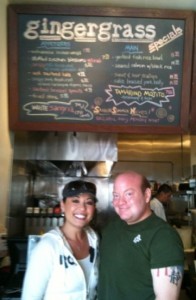 I was very surprised with the menu only because I thought there would be more authentic Vietnamese dishes. I was also surprised at the lack of Asians I didn't see in the kitchen. I saw one Asian man directing the staff so I'm going to assume he was either the manager or owner.  I ordered a bowl of pho, which is beef noodle soup. It was pretty yummy and came with the usual toppings; cilantro, basil, bean sprouts, lime and jalapeno slices. In my opinion the broth lacked the "meatiness" component and spices that I'm used to. Randy ordered a bowl of bun (rice noodle dish). He loved it! You can't go wrong with a bowl of bun. It's like a taco salad Asian style! A bottom layer of shredded iceberg lettuce, then rice noodles, cukes, thinly sliced carrots , green onions and then topped with char broiled chicken. The sauce that comes on the side ties the entire bowl of bun together. The prize of the day was my Vietnamese coffee. I absolutely loved the presentation. The French press comes out pre-filled with condensed milk (just the right amount I might add). All I had to do was wait for the deliciousness of the french roasted coffee grounds to sift through the press and blend with the condensed milk. Then I poured the press right in the tall glass filled with ice. It was absolute creamy yumminess!
The last time I was at Gingergrass I remember having the same thoughts with the menu. It was almost closing time and the waiters were bringing out dishes (that were not on the menu) and placing them on the far end tables buffet style. I pulled the waiter aside and asked him where those items were on the menu. He said "they aren't on the menu. It's only for staff when the restaurant closes." I so need to find out how to get on that bandwagon!! 🙂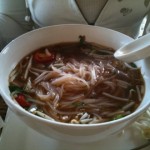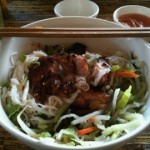 If you want to try the Vietnamese coffee stop in to Gingergrass or pick up a can at any Asian market. If you are looking for authentic Vietnamese food-I would head South.