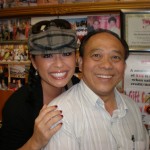 What the pho is going on on Broadway!!!!  I have a favorite little spot called Pho Broadway in Chinatown on……wait for it……Broadway Street. When I moved to LA and was trying to get my bearings on everything Asian, I ran into this little corner unit as I was driving through Chinatown. The menu was in Vietnamese and no one really spoke English so I just memorized the numbers next to the pictures I'am so familiar with. Even though I now know the owner and he tolerates my 20 million questions-I still order by number (to help speed things along) J If you are looking for South Viet cuisine this is not the place for you. Key, the owner, serves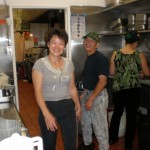 mainly North Viet dishes. Here's a $2 tip…it's appreciated if you use the numbers when ordering cause there isn't anything more annoying than someone taking 25 seconds to try and pronounce each word. The numbers are there for a reason, so you can eat not learn Vietnamese.
The restaurant boasts a diner feel, is extremely well lit with about 11 tables. This is not the place to go for a romantic candlelit dinner. Did I mention there is FREE parking. The portions are pretty big and you can get out of there with a large bowl of pho and a three bean drink for $6.90. I love taking newbies to Pho Broadway because the menu is so inexpensive that it's worth ordering a little bit of everything.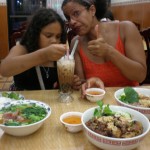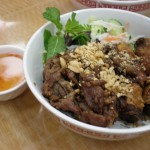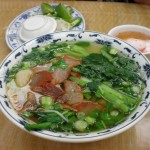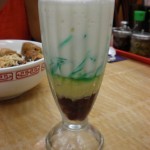 This trip, Lawren and I were teaching Cat (Lawrens daughter) how to eat with chopsticks and suck up boba's through the wide straw. We had bowls of pho and a yummy dry rice noodle dish with lots of lettuce, cilantro, basil, sliced egg rolls, bbq pork….it's number #30 on the menu.
KIMLAI'S RECOMMENDED MENU
Appetizer: #5 Goi Cuon (spring rolls)
#10 Xe Lua (Super bowl of Pho with a combo of beef)
#30 Hu Tieu/Mi Hoanh Thanh Xa Xiu (Won, BBQ pork with egg noodles) featured above
#41 Bun Bo Nuong & Cha Gio (Charbroiled beef & egg roll with rice sticks) featured above
#18 Che Ba Mau (Three Bean Drink)
PHO BROADWAY
942 N. Broadway, Stuie 102
Los Angeles, CA 90012