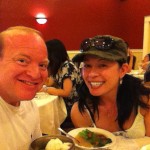 Simply put Dim Sum is small plates with small portions of small Asian samplings. There is nothing more fulfilling than having dim sum with friends on a Sunday morning. *Randy and I decided to stop for dim sum before heading out for a day of shopping in the predominately Asian community of San Gabriel. Mission 261 was listed as one of LA Weeklys top dim sum places so we gave it a try.
Dim Sum is very similar to tapas style dining. Small plates of Asian yumminess. It's a tradition believed to have started more than a century ago, when tea houses began serving little steamed delicacies to go along with their selections of tea.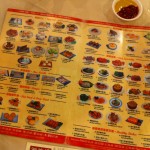 TWO WAYS TO GET YOUR DIMSUM ON.
ROLLING CARTS OR ORDER OFF THE MENU
You won't see any carts rolling around Mission 261. The dim sum is ordered right off the menu. Personally I feel this takes away from the "fun" of ordering various items off carts being pushed by little angry Asian women that can't tell you what the item is on the cart they are serving from. Dim Sum is also a great way to introduce new comers to a variety of Asian food without having to commit to a large plate. It's like a high end buffet. Tip: Try to order everything at once..dim sum, drinks, xtra plates, etc., The service is a little slow.

RECOMMENDED DISHES
#8 Steamed BBQ Pork Buns
#1 Steamed Shrimp Dumplings
#47 BBQ Pork
#51 Poached Chinese Broccoli
#59 Seaweed
#2 Steamed Shrimp Shiu-Mai
#38 Baked Egg Custard Tart
#37 Sticky Rice w/Red Bean Paste Wrapped in Bamboo Leaves
#73 Salty Duck
Mission 261
261 South Mission Drive
San Gabriel, CA 91776
www.mission261.com
*WHO IS RANDY?Randy Salter is an attorney, foodie & fabulous party host who lives in LA. He is an Asian man trapped inside of a white mans body.