Downtown LA is thriving and Chinatown is no exception. For the entire month of August, every Saturday from 5pm to midnight between Broadway & Ya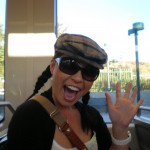 le Street and College to Bernard Street, is dedicated to heightening the awareness of local merchants in Chinatown. Lawren, Catherine and I decided to take the metro from Pasadena into the Chinatown station to get the full effect of entering China town on our transit system. I'm absolutely fascinated with the transit system in LA… I've only been on the metro twice and can't figure out all the different colored metro lines or what direction they go but I'm still fascinated.
We started our afternoon with a stop into Wonder Bakery for some appetizers. A few steamed bbq pork filled buns, boba Thai teas and custard cups. There were a ton of food trucks along…wait for this….CHUNG KING ROAD. The food flavors ranged from Mexican infused with Asian to Indian infused with Mexican and Asian infused with Indian and Mexican. Lots of variety but we were starving and didn't want to wait in line. Right across the street was Pho Broadway. A Viet/Chinese restaurant that has been on Broadway for years. Lawren and I had a bowl of bun (vermicelli layered noodle salad). Cat had the rice noodle soup filled with bbq pork, wontons and broccoli rabe. We all had three bean drinks (see recipe on eatinasian.com homepage)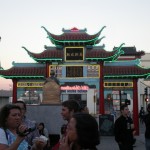 and more boba Thai teas. 20lbs heavier and sleepy we walked back across the street to the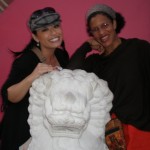 Chinatown Summertime festival and decided to hit the dance floor in hopes of burning off the calories we just ate.
Anthony Valdez with KCRW was spinning and kept the dance floor full.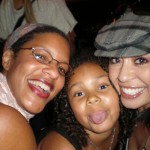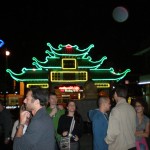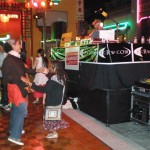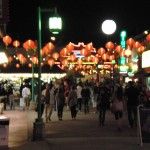 There were a ton of shops with Asian trinkets all throughout Central Plaza. Chopsticks, bowls, Hello Kitty, jewelry, clothing and household goodies.
WHY SHOULD YOU CHECK OUT CHINATOWN SUMMERTIME NIGHTS??? Here's a few reasons: Family workshops (fun), food trucks (yummy), cooking demos (educational), DJ's from KCRW spinning (exciting), interactive dance workshops (healthy). And the best part of all of this is IT'S FREE!!!!!
FUN, YUMMY, EDUCATIONAL, EXCITING AND HEALTHY…did I already say FREE!!